This Could Happen To You
You have car insurance and home owner's insurance. You have medical, dental, and vision insurance. (Some people even have their pets insured.) You go to great lengths and expense to safeguard your health and valuables against unforeseen emergencies and disasters.
But do you have all of your important computer files backed up?
Neither did I.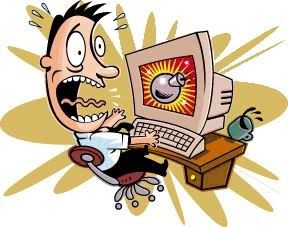 I thought I'd get a jump on taxes this year. I've spent several days, while Hudson was napping, catching up on paperwork and working on one of my newest goals: to go paperless. I scanned personal and business bank statements, and some credit card bills, and shredded them. I've also scanned other important documents and shredded those too, thereby purging precious file space too. Oh, I was feeling so proud of myself. I smugly avoided household chores and my blog because I had this important work to do.
And well, I guess I got cocky because I inadvertently made a mistake that wiped out two years of financial records. Personal and business. Gone. Poof! Lost in cyberspace.
I called my husband and then my mommy. I called everyone who would listen and console me. The thing is, I use Quickbooks. Admittedly, I wasn't backing it up. Yesterday I was somehow able to restore an older version of my file without being warned. I've attempted to delete emails, pictures, and blog posts and I'm always warned: Are you sure you want to permanently delete this? Yes, I was sure. But did I get a warning from Quickbooks? Did it say: Are you sure you don't want to make a back up copy before restoring an older version? Are you sure you want to destroy two years of work? Are you crazy?!? But no, no, no. Without even realizing what I was doing, I erased my history forever.
Or, so I thought. Yes, I was able to get it back. Thank God! But I still went through many horrible hours, wringing my hands, feeling powerless and fearful of how I was going to re-enter all of this data in time to issue 1099′s, for one thing.
This taught me a very important lesson. Always back up your files. I hope you do the same.