Eat, Pray, Love and Read
It is amazing what can be done with the "lost minutes" in a day: waiting for water to boil, while you eat, during commercials, waiting for your computer to boot up, and before you fall asleep. In this way I am able to read books. Lots and lots of books.
I'm now reading Eat, Pray, Love¹ by Elizabeth Gilbert. I fell in love with this book in the Introduction. It is, in a word, exquisite. Suppressing the urge to race through it, I'm savoring every page.
The theme of Eat, Pray, Love resonates with me, as did the magical story of Hope Edelman's The Possibility of Everything. Although Gilbert and I share a startling amount of commonalities (the most trivial being age at the time of her travels), my connection with this story is on a more meaningful level. For quite awhile I've been feeling some unnameable thing. An impulse to make a radical change. Anticipation of some thing yet to come.
This feeling began with a personal inventory. For all of my 34 years I've lived in Phoenix, Arizona. The desert. Except for one year when I lived with roommates across town, I've had the same area code my entire life and only 3 zip codes. All of my homes have been within a 15-mile radius.
I was 30 years old before I traveled out of the country and that was to Rocky Point, Mexico which is about a 5 hour drive from my house. No Passport was required at the time and I still don't have one. I have visited just 5 of our 50 great states, and 3 of them on only one occasion. (Florida for a wedding, Pennsylvania to see family, and Utah on a business trip/visit with friends.)
Feeling stifled by a sheltered life, I recently said to my husband, "Let's put our most valuable possessions in storage, sell all the rest, and travel. Anywhere. Let's just go with the kids. We can be like The Wild Thornberrys."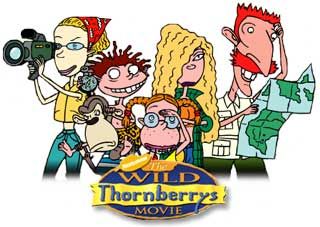 Lucas was all for it. My teenage daughter… not so much. For her, high school is just around the corner. She is looking forward to her first job, getting a driver's license and Senior Prom. I don't begrudge her any of this. I want her to have all of these "coming of age" experiences… and infinitely more. I feel compelled to teach her (and 17 month old Hudson) that there is more to life than cell phones, iPods and designer labels. And though I'm a fan of the American school system, there is so much more to learn than what can be read in textbooks.
It seems appropriate to attempt articulating this feeling on the first day of the new year. Besides being my birthday month, January is a time I always look forward to. It's a clean slate. A time of renewal and reflecting on where you've been and where you want to go. A time to take stock of your life. Revise. Readjust. Resolve.
I will, as always, make resolutions. I am great at making them. I allow myself the full month of January to consider each facet of my life – Personal, Spiritual, Intellectual, Social and Financial – and I map out short and long term goals. Each goal is broken into baby steps so I can check my progress. (Now the follow through on all of this, well, I've had successes and failures, thrilling victories and abysmal failures.)
But this year I am challenging myself to something far greater than a list of New Year's Resolutions. It will require some intense introspection and discovery. I want a New Year's Revelation. I want to bring this inscrutable thing into the concrete. To name it and claim it. This year I will not settle for: "Start exercise regimen. Read through the Bible. Save X dollars a month for Hudson's college fund." I want clarity of purpose. I want my Eat, Pray, Love experience.
¹Eat, Pray, Love is Elizabeth Gilbert's bestselling memoir of her yearlong journey of self-discovery. She travels to Italy for pleasure, India for a spiritual experience, and Indonesia to learn balance.